Year 4
Sonia Delaunay
Year 4 will be Introduced to one of the great female artists of the 20th century, Sonia Delaunay. They will find out about the artist's early life, who and what she was influenced by, and how she developed her own distinctive style of art. We will explore how Sonia Delaunay branched out into the fashion world and the legacy she left behind.
Can we change places?
In this thought-provoking topic, pupils will think about how environments can affect how we think and feel. They will explore sculptures and describe what they think and feel about them. Year 4 children will take rubbings, sketches and photos of interesting patterns, lines, or images to use in future sculpture designs. They will focus particularly on making sure their design reflects the area they are designing the sculpture for. In this topic, papier mâché or Modroc will heighten the children's artistic interests.
Year 5
A Sense of Place
We will introduce our classes to the world of landscape art with these creative art lessons. We will start by using a viewfinder to find interesting features and views of a local area and then go on to study the work of some of the most famous landscape artists and how they use perspective to give a sense of depth to their work.
Monet
Year 5 will immerse themselves in the Impressionist movement and the life of Claude Monet. They can then create their own landscape paintings in the style of Monet. They will explore how the light changes landscapes at different times of the day and during different seasons. They will work to recreate Monet's famous 'Sunset in Venice'. They will consider the impact Monet's cataracts had on his artwork and find out how he felt about his work in his later life. Children will explore some other Monet paintings including his famous 'Water Lilies'.
Year 6
Street Art
In this Graffiti series of lessons, children will find out all about the many varied forms of art in public spaces, and develop their own ideas for quick, colourful, eye-catching, humorous or satirical pieces of street art through sketching and annotating. We will also discuss how street art polarises opinion, when and where it is acceptable, and how it can improve or damage public spaces.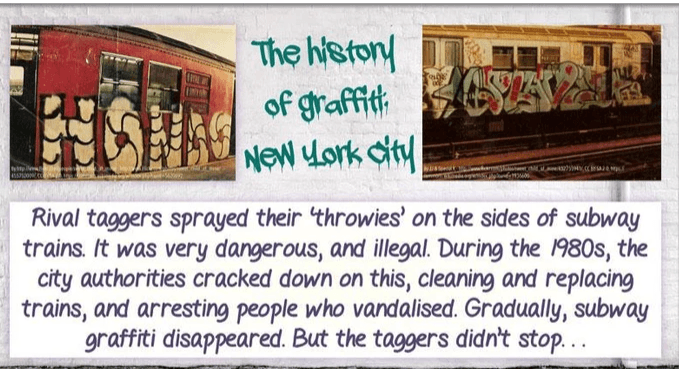 Famous Fashions
These designers William Morris, Jasper Conran, Cath Kidston, and Emma Bridgewater will inspire the children to think about design, style, materials and colour. Year 6 pupils will be introduced to the shoe designers Jimmy Choo, Vivienne Westwood, Christian Louboutin, and Dan Sullivan: stimulating their design techniques of their own shoes. They will look at different events hats are worn at and design a hat for a chosen event. They will also be introduced to a variety of iconic British clothing designers, such as Mary Quant and Stella McCartney. Children will look at examples of costumes from some familiar film characters. They will then design a costume for a character of their choice.